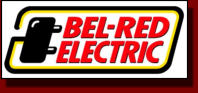 Seasonal Promotions


DAYLIGHT SAVINGS SPECIAL!
Get professional Outdoor lighting now, when you need it most! The Stealth
Motion Sensor light kit is Security Grade light fixture that outperforms the
competition. Right now, BEL-RED ELECTRIC makes it easy to increase your
safety and security without Busting your wallet! Save 10 % on Motion Sensor
Flood lighting !
The Stealth Motion sensor by RAB MANUFACTURING is designed for long
life, with the highest quality materials so you can rest with the peace of mind
that your Motion security is working day in and day out, all year round. The
Stealth performance is a result of many attractive features:
----1000 watt switching capacity.
----Surge protected up to 6000 volts.
----Radio Frequency immunity, so no interference.
----Protected manual override with Auto Reset
----and much more.
Add Reliable security to your Garages, Yards, Pathways, Doorways and more
to ensure your home and your loved ones are protected. Call Today, SAVE
MONEY WHILE THIS OFFER LASTS through the Year end!
See the attached flyer for the special pricing during the Fall
Call Today, (425) 883-7178