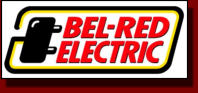 Seasonal Promotions


GFCIs Save Lives!
The sun is out and warm weather is taking life outdoors. Take the
convenience of electricity with you outside! The need for outdoor electricity
increases the inherent risks. This Season BEL-RED ELECTRIC would like to
make it a safe, convenient and affordable experience. Electrical wiring
systems are the foundation of a modern technological world but these
systems have risks. Whenever electric current is running through conductors,
there will always be the risk of serious shock or fire if certain conditions occur.
Be sure to combine the safety of Ground Fault Circuit Interrupters with the
convenience of outdoor power.
The SMARTLOCK GFCI monitors the difference in the current flow between
the hot and neutral wires ( electricity travels in a loop). As long as the
difference n current flow is zero, the GFCI allows current to flow, however if
the GFCI detects even the slightest difference in the current flow between the
two wires ( a ground fault), it reacts by opening the contacts to interrupt the
current flow through the device. So this year, ensure your safety and have a
professional install GFCI protection in areas of your home where is is needed
most:
Garage/Carport - protect all outlets used with handtools, portable
equipment.
Outdoors: Pools, Whirlpool, Spa, Decks and porches!
GFCI's are the modern technology to insure your home, your family and
your loved ones are protected agains serious shock, burn or electrocution.
Call today, SAVE MONEY WHILE SAVING LIVES!
and much more ..
See the attached flyer for the special pricing during the Summer
Call Today, SAVE MONEY WHILE THE OFFER LASTS (425) 883-7178